The world is evolving, and so do the opportunities that are present at our table. Just like how an apprenticeship would be an ideal option to choose in the trade industry.
What is an apprenticeship? Apprenticeships offer a different learning tool. It offers on-the-job training with qualified professionals and paid apprenticeships, in contrast to long hours spent solely in lectures.
This is the exact reason why trade is interesting. It's all about learning new skills and opening up to new challenges in the field. Here is the list of the top 10 highest-paying trade apprentice jobs that would come in handy!
A construction manager does get paid really well. You will be initially required to oversee construction projects from planning to completion.
Furthermore, key responsibilities include creating estimates, planning subcontractors, solving issues, and upholding client relationships. However, during your apprenticeship, you will be trained to prepare budgets, understand blueprints and technical documents, build communication skills, etc.
A construction manager must ensure that the work is completed accurately and with the fewest possible errors. Furthermore, to excel at tasks in hand, it is crucial to develop leadership and communication skills.
As it sounds obvious, this job mainly revolves around fixing, maintaining, and installing elevators. However, responsibilities also include interpreting blueprints, replacing broken parts, testing apparatus, and performing safety inspections.
A four-year apprenticeship with a union, employer, or industry association is a common way for these careers to get started. During these years, you will be supervised by an expert elevator technician.
Starting out, you will need to be familiar with different skills. For instance, knowing how various elevator systems work, using and testing elevator equipment, and having mechanical and troubleshooting skills.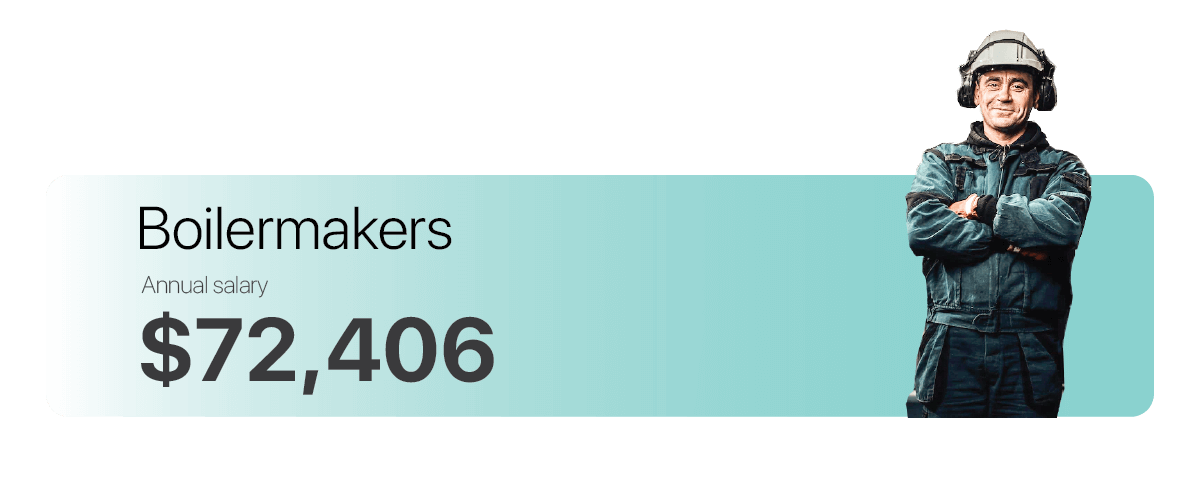 Boilermakers assemble, maintain, and repair boilers and other large containers used in buildings, factories, and vessels. A few of the key tasks include testing boiler systems for leaks, replacing broken parts, cleaning vessels, and reading blueprints.
An apprentice boilermaker will first learn to use boilermaker tools, follow safety practices, read and sketch blueprints, and follow installation techniques. After excelling in these tasks, you will gain skills in welding, knot-tying, rigging, fabrication, etc.
The work is harder than it seems. The job requires working in construction, fabricated metal product manufacturing, and plumbing, heating, and air conditioning. It is essential for a boilermaker to have exceptional stamina and strength to do these tasks.
Afraid of heights? You might find it difficult to be a solar panel installer. The primary role involves assembling and installing solar panels on roofs and other structures. For example, you would be responsible for ensuring that solar energy is effectively converted into renewable energy.
As an apprentice, you will assist with the installation of fresh solar panels and the repair of existing machinery. In the meantime, you will also learn about all the key lessons on electrical grids, wiring, battery storage, etc.
Once qualified, you can weatherise equipment to suit various weather conditions and perform regular maintenance. You can also design system configurations based on customer requirements. Keep in mind that installing the necessary equipment would require working underground as part of the job role.
If working with wires interests you, then this is a perfect choice for you. Electrical contractors typically focus on repairing, maintaining, and installing power and lighting, controlling systems in structures, and even fixing electrical motors.
As an apprentice, you will start with understanding the basics of being an electrician. Apprentice electricians perform their work in a range of locations. These include clients' homes or places of business, commercial buildings, and construction sites. Initially, only the fundamental tasks will be assigned. such as setting up the site, organising the equipment, and performing office duties such as managing invoices and documentations.
Moreover, you will learn about fire alarm systems, soldering, electrical code requirements, blueprint reading, and problem-solving skills during the apprenticeship. In addition to that, you can also learn and keep up to date with the latest trends in the industry.
A building inspector is a specialist who indeed inspects everything, particularly buildings, bridges, highways, and water systems. Furthermore, they also ensure that construction projects comply with building ordinances, zoning codes, and other government regulations.
As an apprentice, you will learn the basics of inspections and how to decipher building codes. After this stage, you will learn how to read blueprints, understand building materials and also key government regulations.
However, after you become a specialist, you can carry out tasks like electrical inspections, building inspections, home inspections, and plan examinations.
You may have guessed it, and you are correct. Ironworkers are mostly engaged in activities that consist of iron. Individuals in this skilled area are responsible for the installation and upkeep of steel and iron within structures.
During the apprenticeship, you will be assigned to reading blueprints, welding, erecting steel structures, and using scaffolding. Additionally, you might need to supervise crane operators, set reinforcement bars, assemble rigging, and unload supplies.
Moreover, the job would in the future require everything to do with maintaining the building structure. Your main tool would be to specialise in steel, iron rods, bolts and wires.
Automotive technicians typically resolve issues with vehicles and SUVs involving parts like brakes, steering wheels, and engines. Additionally, duties like fluid refills, brake pad changes, tyre rotations, and electrical equipment repairs are included in the job description.
Initial duties involve:
Listening to client requests
Performing tests to find vehicle problems
Test driving cars
Checking brakes, lighting, and engines
The job of an automotive electrician is very important as every person with a vehicle requires the assistance of one. Those who gain expertise provide suggestions and guidance to their clients on how to improve vehicle usage.
Plumbers take on a variety of other tasks, such as new construction, retrofits, setting up and fixing water and gas lines. 
An apprentice plumber will work alongside a professional to gain knowledge and understanding of the plumbing industry. This would involve taking up small assignments like attending meetings, assisting on projects, client handling, etc.
Gradually, plumbers would be qualified to install hot and cold water in homes, maintain heating systems, repair drains, install bathrooms etc.
Anything to do with wood is the job of a carpenter. A carpenter builds or repairs cabinets, doors, frameworks, floors, and possibly all other wooden fixtures used inside a building.
An apprentice carpenter will work under the direction and supervision of a skilled carpenter to learn the necessary skills. This work involves pretty dangerous tools that can cause harm to your body.
You will learn to do the basics first. Basics include taking measurements, cutting materials, putting things together, assisting with the construction of larger structures, and reading blueprints. Also, you will learn all the tools and their functions and how to use them safely.
What's the Significance of Apprenticeships?
It is crucial to understand why apprenticeships can be important. It's simply a stepping stone to excel in your dream job. In trades, it is highly important to be multiskilled in fieldwork rather than just learning from the books.
However, here are some other reasons why choosing an apprenticeship is important:
Job diversity and flexibility: There are also various positions that offer apprenticeships to fit your interests. If one may lose your interest, then you may change it immediately and shift to what you love.
Pay per hour: As opposed to some internships, apprenticeships pay you for your work on an hourly basis. Entering the workforce, this is a better offer, considering you are still in the learning stages. Of course, as you progress, you have a higher earning potential and the rates will be increased.
Create mutually beneficial relationships: These experiences and training go beyond simply improving your skill set for the desired job. Instead, it serves as a platform for you to establish meaningful relationships that will last the rest of your life.
Cost-efficient: The training is free. You may only be required to pay for the tools you need. Apprenticeships usually allow you to gain skills without acquiring debt.
 Opportunities: Getting hired for your dream job will be much easier after completing an apprenticeship. More importantly, you could also have your dream salary demanded. Since you will have all the skills, the job is definitely yours.
Here are a few steps on how to become an apprentice.
How to get an apprenticeship in trade?
1.) Choose a trade of your choice, skills and what you would want to do for the rest of your life. Remember, if you do what you love, you will not work a day in your life. 
2.) Make your resume stand out. Include these tips to make your CV work for you. 
Showcase your core skills and achievements.
Customise the resume for the job role/employer 
Include physical and online training and programmes you have attended
Add points as to why you would be a perfect candidate for their company 
3.) Find an employer. This is challenging but also rewarding if it's done right. These are the tips you can use to make your job hunt easier.
Visit online job sites or LinkedIn and search for vacancies in the field you are interested in. 
Visit workplaces and give your resume in hand to the employer. Be smart, confident and precise when showcasing your skills.
Participate in pre-employment, technician programmes, or workshops to make new connections and learn new skills.
Reach out to your known people and say you are open to work 
4.) You can select the most demanded country and shift out there to pursue your career. An apprentice in a trade is mostly demanded in the UK, USA, Australia and New Zealand. 
Apprenticeships are primarily focused on providing a high level of practical education. This training will give you a snapshot of what your professional life is going to look like in the future. With the help of an apprenticeship, you know what to expect from the career you have chosen.
Even though trade schools are available, apprenticeships provide broader skills than what you can learn in the classroom. For example, from learning about each tool to each task that you would be required to perform after becoming an expert.
After all, an apprenticeship sounds like a good plan to follow your dreams. This could potentially be your stepping stone to achieving all your dreams in the trades industry.
Get the latest industry news and articles delivered right to your inbox!
With our cutting-edge technology and in-depth knowledge of how the Field Service Management sector operates, the i4TGlobal Team loves to share industry insights to help streamline your business processes and generate new leads. We are driven by innovation and are passionate about delivering solutions that are transparent, compliant, efficient and safe for all stakeholders and across all touch points.
Recent articles that may interest you as well..