This is a well-known proverb to lift the spirits of a hard-working carpenter. If you are already a hard-working carpenter, why don't you start your own carpentry business?
Recent studies predict that the global construction market is expected to grow by 85%, reaching $15.5 trillion worldwide by 2030. Thus, resulting in excess demand for carpenters operating across the world. This is why you should start your carpentry business right away if you intend to do so!
To make your life much easier, we have compiled a guide on how to start a carpentry business. You may read this to get an overview of what you are expected to do and later commence your own carpentry business.
However, before we move forward, it is essential to get a thorough understanding of the pros and cons of establishing a carpentry business.
Rewarding: You will feel content, proud, and glad that you are finally working and achieving your goals.


Flexibility: You are your own boss. Therefore, you can decide what you want to do at what time and have many clients to deal with on a daily basis.


Expandable: Once the initial phases of your business have been completed, you can indeed expand it. This expansion can be in terms of products, staff, geographic location, technological advancement, and many other factors.


Income generation: You can make as much money as you want instead of being paid an hourly wage or a salary. This can be done by increasing the number of clients or by charging premium fees for the excellent services provided.


A pool of devoted clients: Good service helps to build a more robust brand name that will eventually draw in more customers.
No safety net: During slow sales periods, you may need to cover your own costs and find other sources of income to get by.
Expect criticism: If a service is not delivered correctly right away, customers will likely complain and speak poorly of your business. Hence, you should possess the fortitude and resiliency to accept criticism well.
Demanding: Someone is always having a problem. If you are working alone in the beginning, be prepared to feel overburdened by customer demands at any time of the day or night.
Unexpected expense: Suddenly, it's possible that equipment will break down or that a trip will cost more than anticipated. Hence, have extra money only for contingency purposes.
Taxes and meagre benefits: You now have to manage all of these on your own while beginning with very meagre benefits. It is advised not to put off paying taxes because doing so will only make the problem worse, given the current high-interest rates.
Competition: This is present in the market because of the low entry barriers. Due to this, many entrepreneurs have begun to establish their businesses in this industry.
You have now considered both the advantages and disadvantages of starting your own business. Now let's get to the main topic of the day, which is how to start a carpentry business. We are incredibly happy about your progress thus far.
The 5-Step Guide to Start a Carpentry Business
Step 1: Identify your purpose and niche
Why are you planning on commencing your own business? Is this something you eagerly anticipate doing each and every day of your life? Will starting your own business bring you happiness and satisfaction? Why do you think this decision of yours is the right choice to make?
These are a few of the questions you should be asking yourself before moving ahead with the business launch. Answering these questions honestly will help you achieve greater success in future and motivate you to keep going even in the rainy days.
Once this is determined, it's time to pinpoint your niche and the intended market. What special or customised service are you going to offer that your competitors aren't able to do? Let us look at each segment in detail for you to make a wise choice.
A carpentry business's target market segments are as follows:
These are the potential repeat customers you can anticipate. Homeowners need services for everything from tightening a doorknob to setting up cabinets or cupboards in their residence. You might be expected to perform repairs, installations, or even help with the house's complete remodelling.
Many businesses occasionally require the services of a carpenter. For instance, businesses employ carpenters to build specialised exhibitions or trade show booths, as well as tables, display cases, shelving, etc.
The unique quality of a carpenter is that they are skilled enough to construct anything from scratch according to the precise specifications requested by the client.
3. Construction Companies
Building frames, partitions, door and window installations, even stair construction, are among the services you can specialise in, when you choose the construction sector.
Similarly, an architectural firm working could need to hire a carpenter to build models or prototypes of their designs. After all, you could also work as a consultant to share your carpentry expertise with these high-end clients.
However, it is also vital to choose the target audience by analysing the market you would cater to. You can do that based on the following key market segments:
Competition: Examining your rivals can help you identify market trends and establish benchmarks for future expansion. For this, identify your top competitors, research their marketing and sales strategies and assess your brand's relative strengths and weaknesses.


Demographic data: Age, gender, location, income, educational level, relationship and occupation of people.


Psychographic data: Interests, hobbies, values, attitudes, and lifestyle preferences.


Primary research can also be conducted by interviewing potential clients, running a product trial, and researching your competitors.
You can now determine which carpentry niche to pursue after gathering this data. There are many different kinds of carpentry, but some specialisations you can select are as follows:
Roofer
Rough carpentry
Joister
Framer
Trim carpentry
Cabinet carpentry
Ship carpentry
Scenic carpentry and green carpentry
Step 2: Complete all your paperwork
Welcome to the second most crucial step. Now, it's time to make your company legalised and work on your carpentry business plan. Wondering how this works? Here's how.
Follow the essential legal steps you must take:
Register your business. You will require a company name and a legal structure for your enterprise. You can choose a sole proprietorship, partnership, corporation, or limited liability company (LLC) as your business structure.


Obtain a carpentry contractor licence or master carpentry certification. The licensing requirements in each state differ significantly, so it's important to first check with your state's regulations.


Obtain an Employer Identification Number (EIN) from the government. Using this tax identification number will increase customer confidence in your company.


Obtain a complete insurance package to ensure the security of your business and any future hires.
Prepare a business plan once these steps have been finished. This document provides a comprehensive description of your company's operations. This includes regular operations, staffing, organisational structure, projected income and expenses, and much more.
This is a crucial document that needs proper attention.
In the meantime, it is worthwhile to consider getting a degree, even though it is not required to work in this field. For instance, if you possess a recognised credential, you will be equipped with the skills, knowledge, and expertise required to complete cleaning tasks accurately and successfully.
Step 3: Acquiring finance, assets and expanding the team
It is important to figure out how much does it cost to start a carpentry business. By doing so, you can start looking for funding from appropriate stakeholders. Remember, with a solid business plan, it is likely to receive the expected financing.
How can you raise funds?
Personal: Use your savings or the sale of assets to self-finance your business.


Bank loans: The most popular option, but obtaining one requires a strong business plan and credit history. However, banks tend to have high-interest rates in most countries.


Friends and Family: Request a business loan or an investment from friends and family.


Crowdfunding: Donors fund your idea through websites like Kickstarter and Indiegogo, which are becoming more and more popular low-risk options.
Once the financing is sorted, you can now invest in much-needed assets to commence operations. Carpenters, no matter their area of expertise, use a wide range of hand and power tools. A few of them include:
Hand tools: Claw hammers, tape measures, measuring squares, chisels, mallets, handsaws, backsaws, etc.


Power tools: Power drills, jigsaws, circular saws, routers, sanders, biscuit joiners, etc.


Storage tools: Workbenches, pegboards, tool belts, scrap bins, etc.


Other accessories: Carpenter's pencils, extension cords, mitre boxes, bench hooks, woodworking vices, dust collection systems, etc.
Besides tools, when you add technology to the mix, the operations of the company will become 10 times faster and more efficient with very minimal errors.
For instance, you might think about investing money in a Field Service Management programme that enables you to accelerate workflows. i4T Business is one such revolutionary solution, which offers everything from quoting, scheduling, invoicing, reporting and recording your jobs from start to finish. It also offers integration with your favourite accounting app, so you do not have to switch between different platforms.
Finally, it's now time to expand the team. Employees are the greatest asset for any carpentry business. Therefore, it is crucial to be selective when choosing employees. You should answer three essential questions:
What kinds of carpenters will you consider?
How can your employees help grow your customer base?
How will you train them?
Provide employees with onboarding training so that you can foster a great team from the start. This is important because training, workshops, and team-building exercises can improve company culture and employee cohesion.
Additionally, give employees incentives and promotions based on their performance. As compared to monetary compensation, growth opportunities are more alluring to employees.
Without understanding the unique selling propositions of your services, do not set a price. This factor will depend on the quality of the services offered.

Hence, avoid attempting to compete on price. It is not good to make your company decisions based on your competitors' carpentry business strategy. So, do not rush to offer discounts just because your competitors are doing so.
When customers realise the value and quality your company provides for the price charged, they will never leave. In fact, you will be able to get more and more clients based on their recommendations to their networks.
If you are wondering how much does a carpentry business make, then the answer depends on how well you provide your services. Better the service, the higher the prices. However, do not expect to make high-margin profits right after you commence your carpentry business.
Step 5: Commence your operations
You have finally arrived at the last stage of starting your own carpentry business. At this stage, it is time to market your services and reach out to your targeted audience.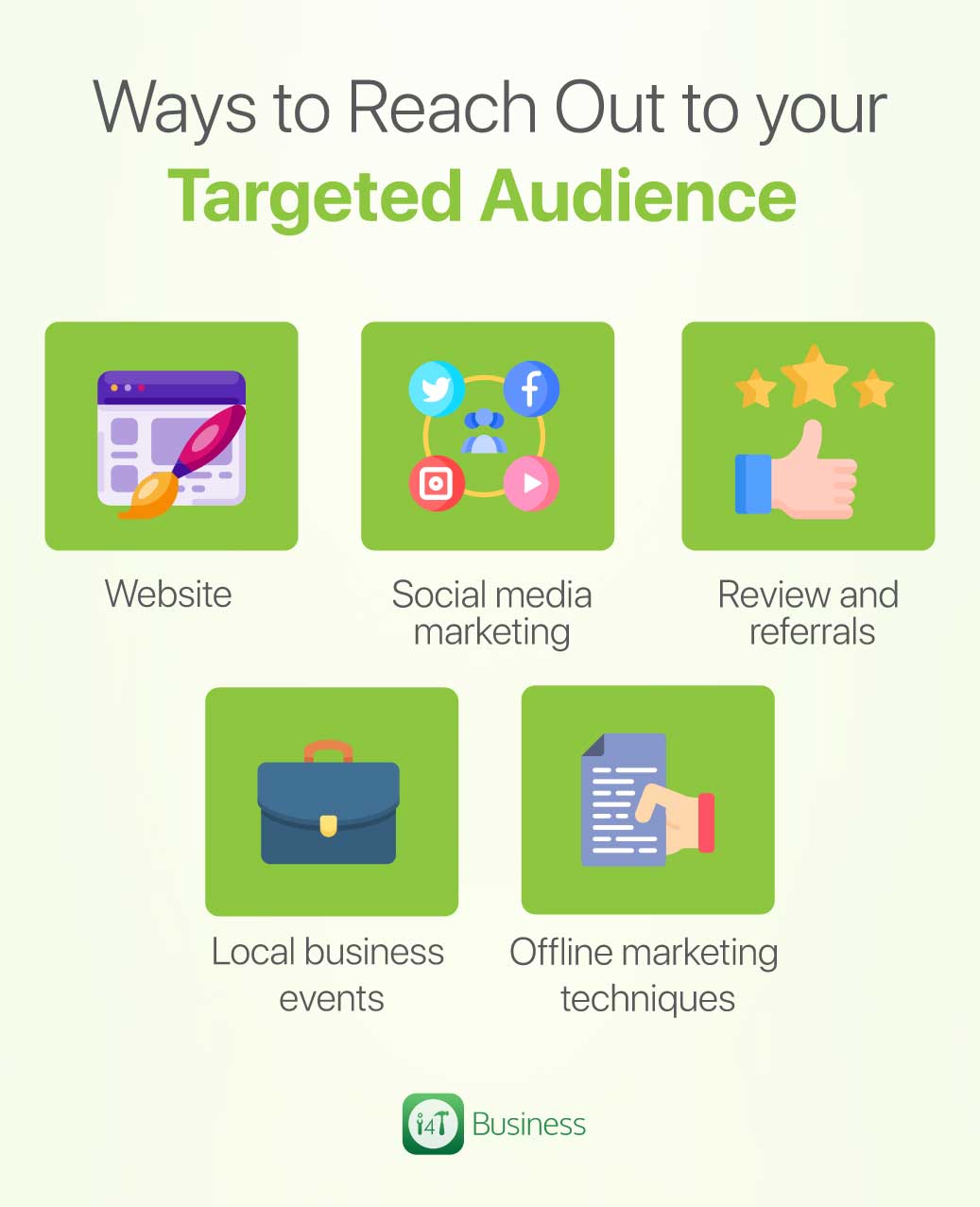 Website: Establish your website. This can aid in increasing your online visibility and gaining potential clients' confidence.


Social media marketing: Popular social media platforms like Facebook, Instagram, and YouTube are great places to forge stronger online ties and gain and maintain client trust. To entice customers further, have testimonials and service videos posted on your page.


Review and referrals: One of the most important. Nothing is more important than 'word of mouth authentication'. Make sure to provide high quality services and ask your clients to post reviews to boost your reputation and bring in more business.


Local business events: Network to promote new business in your area and spread word of mouth, particularly among local investor groups.


Offline marketing techniques: Flyers, leaflet drops and newspaper advertising. If you are wondering how to make a cleaning business flyer, do not worry. It is possible with software such as MS Word, Canva, etc.
You now know the key steps required on how to run a carpentry business. Even though it may seem overwhelming at first, launching the business will be oh-so rewarding.
One of the best strategies is specialising in unique selling propositions.
Be humble, a good communicator, and a great risk taker. These are the qualities that will inspire your employees and clients in the first place. Therefore, taking on a vital leadership role is a crucial step to expanding your company.
On a final note, remember that technology integration will be a great addition to your company's expansion. We recommend using i4T Business to get your first few jobs completed, and we promise you won't look any further. Sign up for a 14-day free trial today.
We hope that this has definitely answered most of your questions on how to grow a carpentry business. We wish you the very best of luck in all your future endeavours!
Get the latest industry news and articles delivered right to your inbox!
With our cutting-edge technology and in-depth knowledge of how the Field Service Management sector operates, the i4T Global Team loves to share industry insights to help streamline your business processes and generate new leads. We are driven by innovation and are passionate about delivering solutions that are transparent, compliant, efficient and safe for all stakeholders and across all touch points.
Recent articles that may interest you as well..